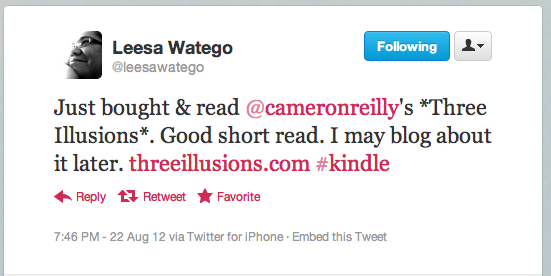 Here's a few of early reviews of the book that I've lifted from Amazon:
By Michael Ashe 
4 Stars
Clever little book that uses scientific concepts and logic to reach the same conclusion that mystics reach through meditation and self inquiry, namely that the separate self is an illusion.
By James C Bryden (Perth, Western Australia)
5 Stars
This review is from: The Three Illusions (Kindle Edition)
This book gets a thumbs up from me for a couple of reasons. Firstly, it gets straight to the point, and isn't full of padding as many self help books are. Secondly, Cameron puts forward his case clearly and supports it with reasoned argument. No doubt many will strenuously object to his point of view but in my experience he is spot on. Take a close look at your thinking and see who (or what) is really running the show, you might be surprised, pleasantly or otherwise.
By Petros
4 Stars
This review is from: The Three Illusions (Kindle Edition)
Cameron explores an number of interesting concepts. I don't necessarily agree with his arguments but I do see that they have merit. I have a strong suspicion that a number of people will derive benefit from the discussions he presents. Having said that I know that this will also go totally against that grain for just as many readers. The book is well written and makes for easy reading if you are prepared to have conventional thinking questioned. He presents his case well and his arguments seem to support his assertions. The book would make the basis for some robust debates. Well worth the money.